The flotsam and jetsam that washed up in Lew's head.
Saturday, August 02, 2008


LewisPerdue.Com
Books, reviews, articles and more.
---
Previous Posts
Links
A Sampling
Of Lew's Other Web Sites
Books'n Blues, A charity fundraiser that Lew is organizing in his hometown of Greenwood, Mississippi to make an opportunity to create opportunities
Taqdot, Online resources and communication exchange for the synthetic and open-source biology community, a place where genetic engineering is SO last century.
LewisPerdue.Com, Finally, all of my books in one place.
Daughter of God, The original art and Vatican conspiracy thriller about religion and the search for the lost Goddess in Christianity.
The Da Vinci Crock This is a blog covering the Random House/Dan Brown plagiarism court case.
Writopia This is a blog covering Dan Brown's various fabrications, boasts and fictional inflation of his life and accomplishments.
TeeShirtTeeshirt.Com, A silly online store selling humorous tee shirts, hats, shot glasses, wine glasses, mugs and other stuff either connected with Lew's books or created by Lew's son, William who maintains the site
Publisher's Marketplace, This is my author's page on Publisher's Marketplace which is a must site for anyone in book publishing.
The French Paradox and Beyond, The best-selling book on wine and health. The entire text is available free.
Eroticabiz: How Sex Shaped The Internet, The best-selling analysis of the adult industry's role in developing the online world's major technologies: from video streams to payment systems. The entire text is available free.
WilliamPerdue.com, My son, William's personal and family site.
YourTechWorx, My son, William's business site. He scans family photos and business documents and burns CDs to insure against loss and to make it easier to share them.
Pathetic Bell, The Official Contra-Tribute Site for Pacific Bell; don't get mad, get even.
---
FOREIGN RIGHTS & AGENTS
Lew's books are available all over the world. This page tells you where
MORE BOOKS BY LEWIS PERDUE

Fed by greed and notions of racial superiority, a huge global biotech corporation is about to unleash a killer gene that has rested undisturbed inside every human being for thousands of years.
Their purpose: to control the most diabolical weapon of mass destruction ever designed: a racial bomb which targets only members of specific ethnic groups and it's available to the highest bidder, be they government or terrorist.
Go to Slatewiper.com
---
The Da Vinci Codex is Missing!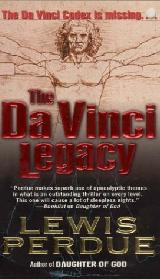 The ORIGINAL thriller about Leonardo, art and religion is BACK in print.
---
Buy Slatewiper, Da Vinci Legacy
and Lew's Other Books
---